Switzerland is a multicultural country. People with roots in Germany, France, Italy and other European nations call the Alpine nation home. All the various cultures have an influence on Swiss fashion, as does the nation's climate. Switzerland's climate is temperate, although temperatures vary according to the altitude. Temperatures in lower elevations range from cool to warm, with humid summers having occasional showers.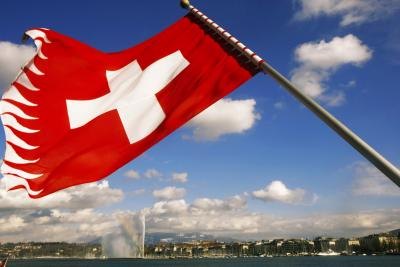 Embroidery
Most traditional Swiss clothing is adorned with embroidery. Usually embroidery is stitched on hats, scarves and shirt cuffs. Embroidery also decorates fabric. While embroidery used to be a home industry in the eastern and northeastern portions of Switzerland, it's now limited to tourism because the people no longer dress in traditional clothing.
Tights
The Swiss once wore tights that were either knitted at home or purchased in stores. Hand-knitted tights (selbsgestrickten) were made only for babies. Swiss boys wore only dark-colored tights until around 1960. Beginning about 1970, tights became available in various other colors with children starting to wear brightly colored tights. However, most boys still wear darker colors such as black, gray and blue, while girls prefer red and white.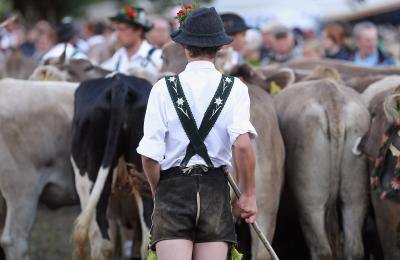 Traditional Smocks
Smocks are another traditional Swiss fashion worn by both Swiss-Italians as well as Swiss-French boys. Generally, smocks were reserved for school. In fact, according to the Historical Clothing website, it was compulsory for 9- to 10-year-old boys to wear smocks from the 1930s to the 1960s.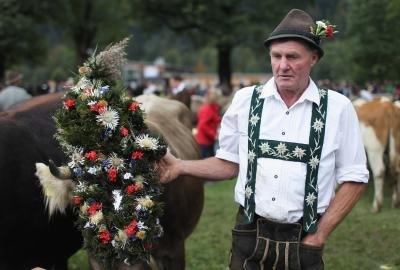 Traditional Swiss Festival Clothing
Although the Swiss normally wear western-style clothing, they still don traditional costumes at their parades and festivals. Besides the many displays of fine Swiss embroidery, the cattle herders of Gruyere wear a short blue canvas jacket. The women wear long-sleeved jackets, silk aprons and straw with ribbons dangling from the brim. Gold lace caps are also a traditional female costume. In Unterwalden, the women wear silver ornamented dresses. In the Alpine areas, the men wear traditional leather shorts (lederhosen) with leather boots.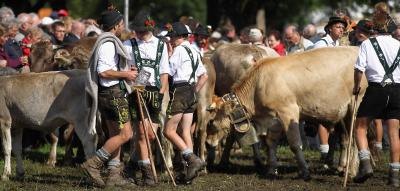 Modern Swiss Teen Fashion
Just as in other western countries, Swiss teens wear casual clothes, although the same outfit is typically worn for several days. They wear heavy jackets, scarves and gloves in winter. During warmer months, they wear light clothing such as T-shirts. Because Swiss teenagers participate in many sports, they wear typical sporting clothes as worn by U.S. teens while bicycling or engaging in after-school sports such as soccer. Popular brands include
Adidas
, Nike and Puma.< aligncenter" src="http://img-aws.ehowcdn.com/default/ds-photo/getty/article/81/17/75923527_XS.jpg" alt="Two girls decorated with Swiss flags in Luzern, Switzerland" data-credit="Johannes Simon/Getty Images News/Getty Images" />
Contemporary Green Fashion
Being concerned about climate change, most modern Swiss are extremely environmentally conscious. Therefore, the demand for natural fibers and products using environmentally friendly methods continues to grow steadily. The Swiss are willing to pay more for their clothing to abide by environmental standards.
Cabaret singing is the art of fronting a vocal performance in intimate venues of all sizes. It is among the most challenging of all professional music avocations. The successful cabaret artist is more than a vocalist; she is also a performer, often a band leader, and a tireless and savvy performer. Successful cabaret singers can make anywhere from $30 to $500 per hour and sometimes more. If you choose this profession, you have to be on your game — as a cabaret singer, you are the show. There is no plot or production to hide behind, and you may have to react to any number of unexpected challenges.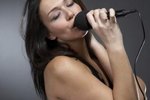 Instructions
Develop a repertoire. As a cabaret singer, you will need to be able to sing between three and four hours of solid music each night. But you must know much more than those three to four hours of music. You must also have enough "spare" repertoire to mix up each show, to respond to requests and have songs available for special occasions. As a cabaret singer, you will need to be able call a song to celebrate anything from 21st birthdays and 50th wedding anniversaries, to bat mitzvahs and Christmas. You'll not only need to know the words to songs, but also the keys you sing them in so you can call them out to your accompanying musicians.
Find a mentor in a successful performer. The most effective way to learn the art of cabaret singing is to work or play with other successful cabaret singers. If you can't work with them, take the time to watch as many experienced performers as possible. You will gain performance experience, develop your repertoire and build a valuable Rolodex of venue managers and musicians.
Develop your promotional materials. Cabaret singing is a business, and you provide a valuable service to venue owners by attracting people to their establishments. Treat it like a business and establish a marketing plan and budget. You will need business cards, a mailing and e-mailing list, and a website. Create a demo recording to showcase your vocal talents. You will need to create a social media presence, too.
Market yourself to venue managers. Call the venue, or visit in person and ask who books the entertainment. Tell them you'd like to book your act. If they don't know who you are yet, you should have some promotional material you can get in their hands quickly. Set a fee that is agreeable to the venue management, yet still adequately compensates you and your musicians for their time, including travel, setup and tear-down times. You may want to identify whether the venue is a union establishment or not. Many hotels in some areas only hire union musicians. If this is the case, you may need to join a musician's union to play.
The West African nation of Mali is famed for tie-dyed textiles and unique colors and prints used in its garments. The culture is lively, and that is reflected in the garments you see throughout the entire nation, no matter which region you are in. Although Western clothing is becoming more popular, you can still see much of the traditional dress that the Malian people pride themselves on.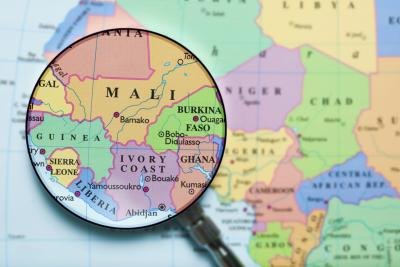 Traditional Clothing
Silk skirts, tunics and long dresses are popular choices for Mali women, particularly the pagne, which is a wraparound skirt. Traditionally, women also wear turbans that match their dresses. The boubou, which is a full-length tunic, is a traditional men's garment.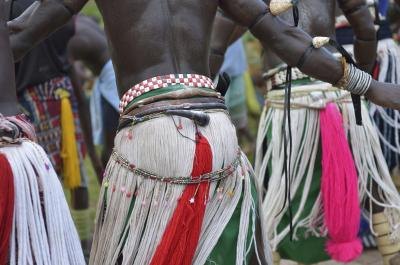 The Republic of Mali consists of many individual tribes and ethnic groups that have developed their own colors and styles of clothing. The Tuareg tribe, for instance, specializes in making a specific indigo blue cloth that is also used for making wedding blankets.
As a result of globalization and previous colonization, Western style has also impacted Mali clothing, particularly in the cities. Many men wear Western-style pants, shirts and tunics to work, while women are in wraparound skirts and tunics, and even occasionally pants.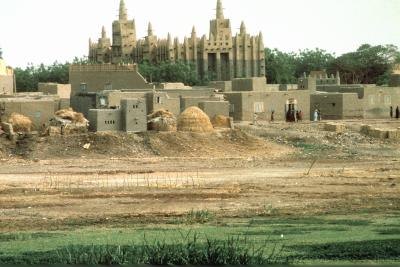 Religous Influences
A vast majority of the Mali people is Muslim, however, they haven't adopted the typical Muslim dress you might find in other Muslim-dominated nations. The Muslim veil or hijab is one example of this, as Mali women do not wear them. Some traditional Muslim dress rules do apply, however, such as the one regarding shorts, which are not considered decent to wear, particularly by adults.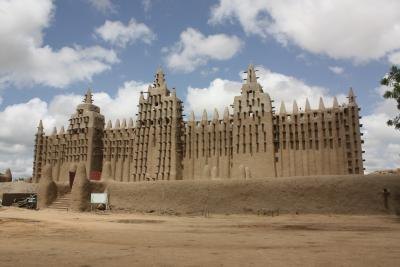 Color
Vibrant color is a mainstay of the Mali wardrobe, and dressing up in costumes and jewelry is a popular activity. Colors used for clothing are typically from entirely natural dyes, which allows the craftsperson to develop his or her own specialized colors.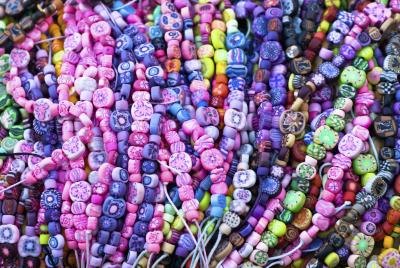 Mud Cloth
Mali is famous for a type of rough-cotton textile called mud cloth, which is often used to make dashikis, a colorful men's shirt. After the cloth is woven, it is hand-painted in centuries-old patterns, then dipped in dyes made from mud. After it dries, it may be dipped again in a process that may take several weeks to complete.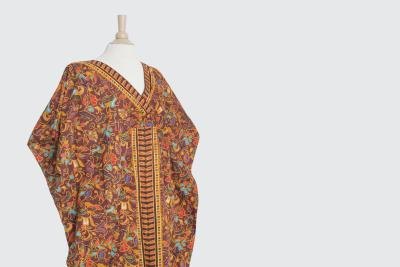 Making your own rock candy flavorings at home is easy, but requires even more patience than making rock candy. You'll be making extract, like the familiar vanilla extract, but you can make it with virtually anything–fruits, vegetables, herbs or spices. If you're brave enough, make all of the unusual extracts you want; you just might discover that black pepper rock candy is tastier than it sounds.
Clean and dry a large jar with a rubber seal and an airtight lid.
Prepare the ingredient or ingredients you want to use to make your flavoring. If you're using something flavorful and fairly self contained like cinnamon sticks or peppercorns, you don't need to do anything. Vanilla beans should be sliced down the middle to expose their contents. If you're using a fruit or vegetable, wash and peel the fruit and chop it into small cubes. If you're using fresh herbs, chop them coarsely. Keep in mind that you will need to strain this out at the end of the process, so avoid using dried powders or anything that will completely disintegrate after soaking in liquid. For best results, use only one ingredient and make multiple flavorings if you want to combine flavors.
Put your flavoring ingredient in the bottom of the jar.
Pour in some vodka. You can approximate how much you add, but try to aim for a five-to-one vodka to ingredient volume ratio for all dried ingredients, and a three-to-one ratio for all fresh ingredients.
Seal the jar tightly. Give it a good shake and store it somewhere cool and dry.
Wait eight weeks while the mixture turns into an extract. Every three or four days or so, give the jar a shake.
Pour the mixture through a very fine mesh strainer into another clean container. You may need to strain the mixture a few times to get out all of the pulp and particles, but it's worth taking your time to strain your extract well.
Store the extract in small airtight jars or bottles. Preferably use colored glass instead of clear glass to best preserve the extract flavor.
Could grunge grow outside of Seattle? That was the question in 1992, when San Diego-based rockers Stone Temple Pilots arrived with their 'Core' album, leading the second wave of grunge. The brutal lead single 'Sex Type Thing' introduced the band and vocal style of Scott Weiland. But it was the second song 'Plush,' with its memorable rhythmic guitar lines that truly established the band. Though they would evolve into a more straight-ahead rock band over time, the 'Core' and 'Purple' records had songs firmly implanted in the grunge sound.
After forming in Seattle in the '80s, Soundgarden finally broke through with the 1991 single 'Outshined,' followed by the spirited follow-up 'Rusty Cage.' Blending in some of their punk roots, Soundgarden provided a frenetic interpretation early on before settling into a moodier, more trudging sound. Singer Chris Cornell shined on such hits as 'Spoonman,' 'Black Hole Sun,' 'Fell on Black Days,' and 'Pretty Noose.' There's no doubt Soundgarden deserves their upper echelon ranking in the Top 10 Grunge Bands list.
Was there a more impactful partnership in the grunge scene than Alice in Chains guitarist/vocalist Jerry Cantrell and powerhouse frontman Layne Staley? The pair's harmonies were unmatched, with Staley delivering the extra punch when things got really heavy. 'Man in the Box' put them on the musical map in 1991, and by the following year, they spawned the grunge masterpiece, 'Dirt,' which featured such classics as 'Would?,' 'Rooster,' 'Them Bones' and 'Angry Chair.'
2. Pearl Jam
Formed after the demise of Mother Love Bone, Pearl Jam emerged from the ashes to soar with 1991's 'Ten' album. The rhythmically heavy 'Alive' set the tone for the group, while the hard-hitting 'Even Flow' cemented their status as a band to be reckoned with. And by the time 'Jeremy' commanded MTV's airwaves, everyone knew Pearl Jam. The 'Vs.' and 'Vitalogy' albums kept the grunge vibes going, and the band is still one of the most successful touring acts to this day.
1. Nirvana
It's hard to argue against Nirvana as the No. 1 act of our 10 Best Grunge Bands list, as they essentially put the genre on the map with their 1991 classic, 'Nevermind.' But things didn't stop with 'Smells Like Teen Spirit,' as 'Come As You Are,' 'Lithium' and their 'In Utero' favorites 'Heart Shaped Box' and 'Rape Me' are as good as they come in the grunge world. Sadly, we lost Kurt Cobain in 1994, but the fact that the band reached iconic status speaks to the quality of the music and their dominance in such a short timespan.
Traditional music, sometimes called folk music, is music that is related to the national culture, noncommercial and passed on from generation to generation. Traditional music is acoustic and employs instruments historically found in the culture. Traditional music varies from country and region and is often played at cultural ceremonies and events.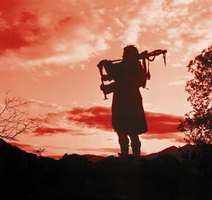 National Culture
Traditional music is a symbol for a nation's culture. The lyrics in traditional music often deal with national historical events and issues that occurred at the time the song was written. The music can be used to identify a certain group of people and unite them. The music has strong emotional ties, as certain pieces are often played during national holidays or other events. Traditional music can help unite people from the music's country of origin.
Lack of Copyrights
Due to the lack of copyrights on traditional music, the music can be sampled and used by modern artists and others without having to pay royalties. The artists who wrote the original music often never got credit for it and as a result did not receive recognition for their creations. In addition, the artist never received any money for writing the music.
Unique Instruments
An important part of traditional music is the use of traditional instruments. Many of these instruments are never used in other forms of music. The preservation of traditional music keeps the artisans who create these traditional instruments in business. The instruments are also a symbol of national culture, and as much as the music can represent a people, so too can the instruments.
Loss of Music
Traditional music was passed on through oral traditions, and many songs were never formally written down or recorded. As such, over time many of these songs have been lost to the ages, and future generations have been deprived of the music. Since many traditional songs have not been recorded, they can be difficult to find and exhibit.
Indian artifacts and rocks used as tools or construction material are a fascinating archaeological find almost anyone can make. Because Native Americans covered most of the North American continent before Europeans settled, the artifacts of their passing are relatively abundant if you know where to look. Identification of these items is based on a few simple observations of the artifacts to determine if it is a find of Indian origin and what it might have been used for.
Instructions
Note the location of the area you are looking or have found an existing artifact. Settlements near rivers were common as travel by waterways was useful and water was a necessary resource. A search near a a river or old river bed may yield artifacts and rocks used by the inhabitants.
Compare the shape of the artifact or rock to items known to be used by native people. Arrowheads are common artifacts, as well as sharpened rocks for skinning or cutting animals. Pottery or shards of pottery are obvious man-used materials, which can then be further examined for origin. If the shape of the item looks like it has been altered for human use, it may be an Indian artifact.
Examine the material of the item to compare to known Indian tribes or commonly used materials from the area of the previous inhabitants. Items like animal skins or natural fibers don't often withstand the elements or deterioration of time unless they have been protected. Rock, pottery or bone artifacts can often be found intact. Determine if the material is consistent with the native inhabitants and compare it to documented items used by tribes in that particular area for comparison.
Take the item to a local expert for the native people in the area. A museum or archeology department at the local college may have displays or documentation and staff familiar with the area's previous inhabitants and have the expertise to help identify your artifact or rock as being part of a native collection.l
The focus on most discussions of blues and jazz has to do with the similarities — the common points of origin and the way both genres of music spread up the banks of the Mississippi, both culturally and geographically. The differences between them are both obvious and subtle, with tremendous crossover.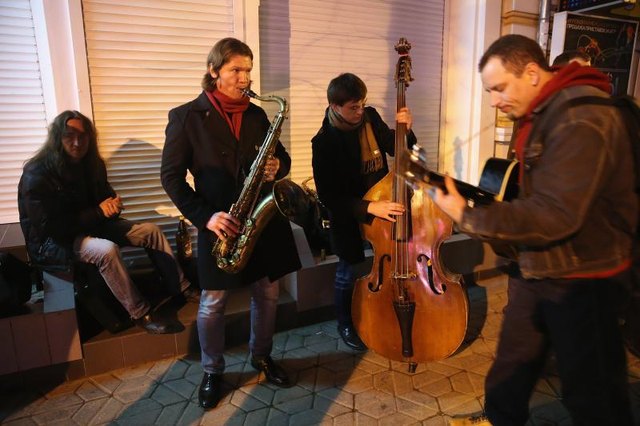 The Delta Origins
The most pronounced difference between blues and jazz is rural versus urban. Although it is difficult to provide precise origins, the spirituals, field hollers and juke joint songs integral to sharecropper culture served as the foundation of the blues, which simplified rhythm, structure and harmony into the musical shorthand of the 12-bar blues form before the end of the 19th century. Jazz, on the other hand, wasn't coined as a term describing music until 1913 in Chicago, although the jazz tradition centered around New Orleans during the same time period.
Contrasting Musical Characteristics
Jazz with its urban origins incorporated elements of European music in both orchestration and theme. Proto-jazz styles of
ragtime
and
Dixieland
strayed from both the 12-bar structure and call-and-response lyrics of the blues, giving a more complex and sophisticated cachet to the music. Blues remained a music of the people, with its simple form allowing players of modest ability to participate. Many of the early instruments of blues music were homemade and improvised, while jazz used conventional band instruments.
Instruments and Bands
Jazz bands are larger and soloists more integrated, while blues bands more often feature an artist supported by a rhythm section — although quartets and big bands exist in both styles. While many instruments are common to both styles, the approach of the players may vary tremendously. For example, jazz drums incorporate sophisticated
syncopated rhythms
while blues drumming tends toward building a straightforward groove with the bass. Perhaps revealing the rural/urban split, blues favors simple, inexpensive instruments such as the harmonica, while jazz commonly incorporates brass and woodwind instruments such as the trumpet and saxophone.
Melody and Improvisation
Blues melodies and solos generally are built around five-note, pentatonic scales, with bent or slurred blue notes
used to invoke emotion. While these are quoted in jazz playing, the pentatonic scale serves only as a starting point for improvisation, free of the restrictive nature of blues form.
Traditional Dixieland bands were comprised mostly of single-note instruments
such as the trombone and clarinet, leading to the distinctive jazz notion of simultaneous improvisation.
Blues bands were built on rhythm sections
of drums and bass, with single-note instruments usually improvising alone.
Singing the Message
While both jazz and blues may incorporate singers,
blues preserves more of its origins as music of the cotton fields
. The stories of hardship and joy in blues songs are integral to the compositions, with the singer bringing emotion and life experience.
Jazz vocal styles often highlight the virtuosity of the singer
through improvised scat singing, focusing on musicianship more than message.